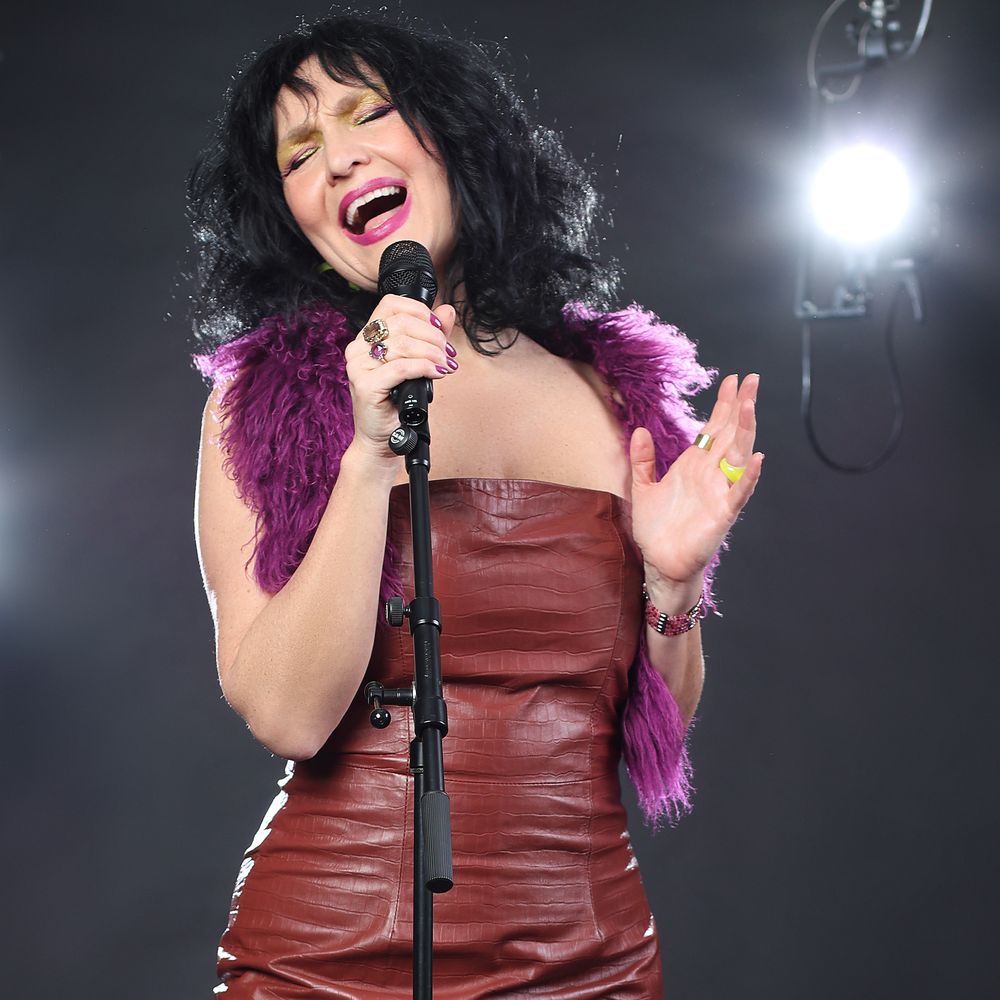 LIBERTY_C.
POSITIVE VIBES AND INSPIRING FEMALE EMPOWERMENT
LIBERTY_C. is the recent Soul-Pop project of Austrian born singer and songwriter Katja Cruz.
Her new single "Queen of My Life" just had its video premiere on Wonderland Magazine, UK. The song will be released on all platforms on May 20th.
Last year she released her album "Free to Be Me" (March 26th, 2021), a duo production with Boris Schnelzer. In summer she toured with full band and then started to work on new recordings with this 4-piece formation. "New Horizons (I'm Ready)" and "Remedy" were released by the end of the year; now she's heading towards a new album.
Katja talks about the freedom and joy to be who we are. Further she sings about female dignity, inner and outer completeness, about love and the longing for remedy. She calls us to trust that we live in the right moment, and that it's time for us to grow to the best version of ourselves.
LIBERTY_C.
Katja Cruz: commposition, lyrics, vocals, piano
Markus Adam: saxophone
Andreas Sassi Krampl: bass
Ernesto Grieshofer: drums
Liberty_C. on Indie-Music
May 6, 2022
'Queen Of My Life' features Katja's smooth unique vocals which are tied together by incredible saxophone and clever instrumentation..."
Broadway World UK
Chloe Rabinowitz, May 5, 2022
"... Being a single mum and freelance musician the themes of empowerment stem from Katja proving to her two young daughters that anything is possible, and "no matter what your gender is, follow your dreams and don't let anyone tell you otherwise..."
"QUEEN OF MY LIFE"- video premiere on Wonderland Magazine
Theo Kandle, April 28th, 2022
Backed by smooth jazz instrumentals and a triumphant ballad, Liberty_C. proves exactly why she is the "Queen of my Life" in her brand new single. Dripping in self-empowerment, the track transports you into an underground speakeasy filled with the soulful and sensual notes of saxophones — offering a space to totally unwind and bask in a mesmerizing melody. Placing you back in control of your own life, the artist assures "it's the flame of my heart that makes me shine". Both soothing in sound and in sentiment, "Queen of my Life" has us all charging into the day with newfound confidence and goes to great lengths to showcase Liberty_C.'s tenderly crafted talents.
Being a single mum and freelance musician, Liberty_C.'s main influence for the theme of the track stems from the artist proving to her two young daughters that anything is possible, and "No matter what your gender is, follow your dreams and don't let anyone tell you otherwise". Furthering this concept, the track comes with a hypnotic video, featuring solo shots of the artist that radiate confidence and contentment.
Emblazoned with self-love and a sky-is-the-limit attitude, we cannot wait to see what Liberty_C. will gift us with next. To stream the single now, head below…
Balm on our wounds
Liberty_C. at Rattler Magazine, Feb 15th, 2022
..."Remedy" is a smooth ballad in a jazzy mood due to the smoky timbre of Cruz' voice paired with skillful saxophone lines. Cruz says she wanted to write "a most gentle song that seeks to be the balm on our wounds and despair. As the last year was very challenging for all of us, and minds and happenings partly seem to go crazy, I'm asking for more tenderness for ourselves, for each other, and for this world. 'Remedy' is also asking for honesty and sincerity, for new ways of behavior, thinking and loving to build a new society."...
A beautiful portrait about Liberty_C.'s life and music
Mona May in Kuenstler-Leben, Dec 24, 2021
"Sanft und intensiv, kraftvoll und verletzlich, charmant und voller Sehnsucht, so ist die Musik von Liberty C. [...] 
Bei ihr sitzt jeder Ton, wobei sich der Klang ihrer charakteristischen und charismatischen Stimme, die voller Nuancen ist, weit im musikalischen Raum ausbreitet – so wie sich die Schwingen eines Adlers ausbreiten, um sich in die Lüfte zu erheben. Was ich damit sagen will? Nun, dass sie uns auf einen musikalischen Höhenflug oder eine Reise mitnimmt, dass wir von ihrer künstlerischen sensiblen Kraft mitgerissen werden, wenn wir uns auf sie und ihre Musik einlassen. Aber es ist nicht nur ihre Stimme, die uns ergreift, sondern auch ihre Texte, die voller Tiefgang sind. 
Alles außer gewöhnlich
Es ist einfach das musikalische Gesamtkunstwerk, das Saiten in uns zum Erklingen bringt, auf die wir im Alltag leider gerne all zu oft vergessen. Ich mag Musik, die voller Überraschungen ist. Musik, mit der ich unwillkürlich in Resonanz gehen kann, so wie mit ihrem am 8. Dezember dieses Jahres als Single veröffentlichten Song "Remedy", weil sie mich staunend zuhören lässt und mir gleichzeitig erlaubt in mich selbst hineinzulauschen und mich zu entspannen. [...]"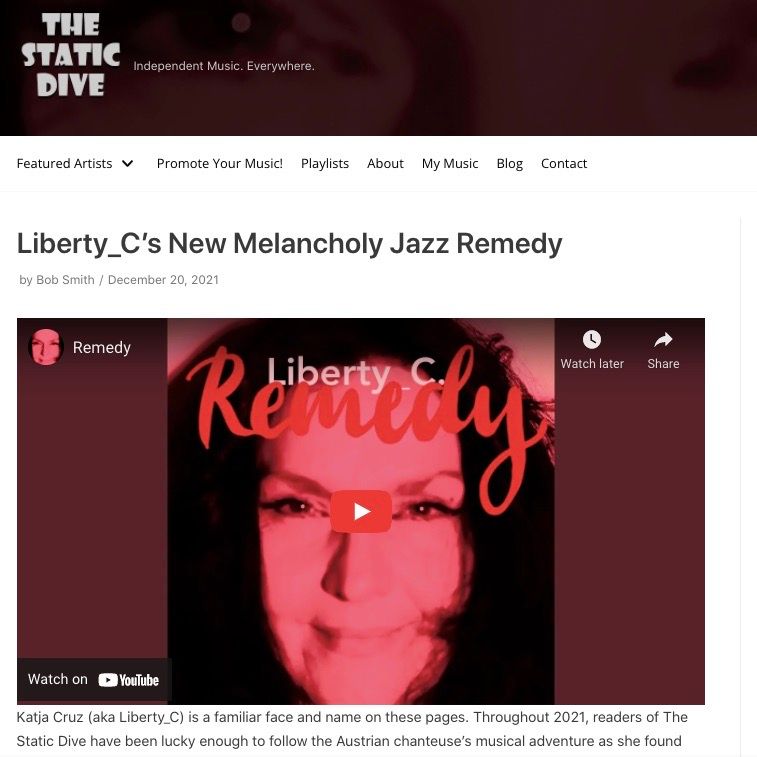 Liberty_C.'s New Melancholy Jazz Remedy
Bob Smith, The Static Dive, Dec 21, 2021
[...] "Remedy" is the latest single from Liberty_C, released worldwide to all major streaming services on December 7, 2021. The new song finds the singer's signature optimism tempered by the realities of the day. A traditional Jazz arrangement of bass, drums, piano and sax accompany Katja and her background singers on this melancholy ballad as she pleads for a change. She longs for a remedy to the troubling ways in which, "…we treat other people, our kids and this world." There is still hope in her message, but it has been bruised a bit. [...]"
"Liberty_C. Is Ready For New Horizons"
Bob Smith, The Static Dive, NY, Nov 17, 2021
Liberty_C. is the inspiring creative persona of Austrian singer/songwriter Katja Cruz. Regular readers of The Static Dive were first introduced to Cruz in January upon the release of her single "Time to Grow." That song introduced a diversely talented singer with an uplifting sound. She delivered a hopeful message to a world that was slowly rising from the ashes of a terrible year.
In April, Liberty_C. followed with her debut full-length album "Free to Be Me." Once again the singer brought the positive vibes on an 11-song collection of personal tales of love, empowerment and growth. With each release she mixes classic Pop and Jazz moods with organic and electronic instrumentation to create her own unique groove.  At the heart of the sound is a skilled singer who infuses her songs with equal parts soul, style and sincerity.
"New Horizons (I'm Ready)" is the latest single from Liberty_C., released worldwide to all major streaming services on October 22, 2021. Cruz wrote and recorded the song just a short time ago when it appeared that we were finally putting the pandemic in the rearview mirror. The song carries a hopeful and joyous message of rebirth and renewal. 
Katja echoes the excitement and newfound confidence of a world preparing to emerge from isolation and fear as she sings, "I feel the strength of a lion and I shine like a diamond." Musically, "New Horizons (I'm Ready)" features a smooth Jazz/Pop ensemble. A skillful quartet of bass, drums, piano and saxophone matches Liberty_C's optimism with the perfect balance of disciplined musicianship and feel-good improvisation...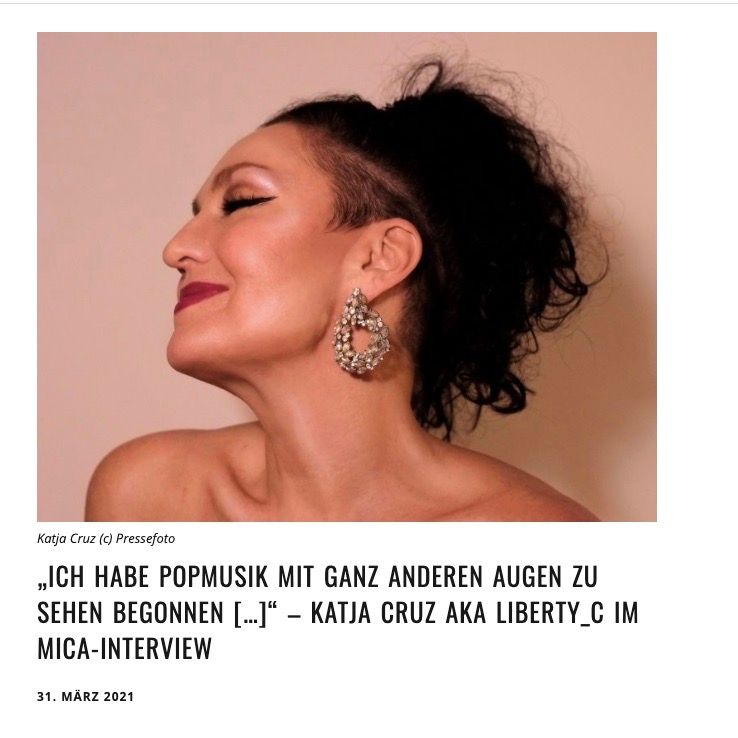 "ICH HABE POPMUSIK MIT GANZ ANDEREN AUGEN ZU SEHEN BEGONNEN […]"
KATJA CRUZ AKA LIBERTY_C IM MICA-INTERVIEW
Die Grazer Sängerin und Songwriterin KATJA CRUZ aka LIBERTY_C. spricht auf ihrem neuen Album "Free to Be Me" (Eigenverlag) von der Freude und Lust zu sein, wie und wer man ist. Sie fordert auf, das Leben und die Liebe zu feiern und sich zur besten Version von sich selbst zu entwickeln. Das Erstaunliche ist, dass sie das in der Sprache des Pop und R&B tut, war sie musikalisch doch bislang hauptsächlich im experimentellen Jazzumfeld unterwegs. Warum sich KATJA CRUZ dazu entschieden hat, sich musikalisch vollkommen neu zu erfinden und welche Herausforderungen sie dabei zu meistern hatte, erzählt sie Michael Ternai im Interview.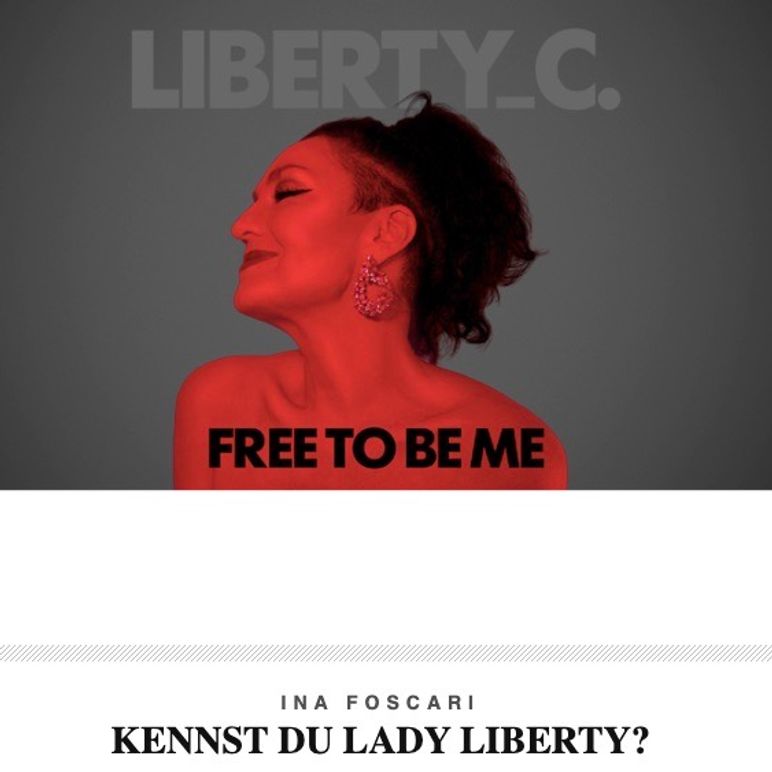 KENNST DU LADY LIBERTY?
CD-REZENSION von Ina Foscari, L!FE-Magazin, 31.03.2021
LADY LIBERTY IST DIE FREIHEITSSTATUE. EIN GESCHENK FRANKREICHS AN DIE USA. LIBERTY_C IST KATJA CRUZ. WAS DIE BEIDEN GEMEINSAM HABEN IST EINFACH ERKLÄRT: SIE STEHEN FÜR FREIHEIT UND DIE LIEBE ZU SICH, EGAL OB NATION ODER DAS INDIVIDUUM. LIBERTY_C WILL DAS MIT IHREM ALBUM "FREE TO BE ME" BEKRÄFTIGEN.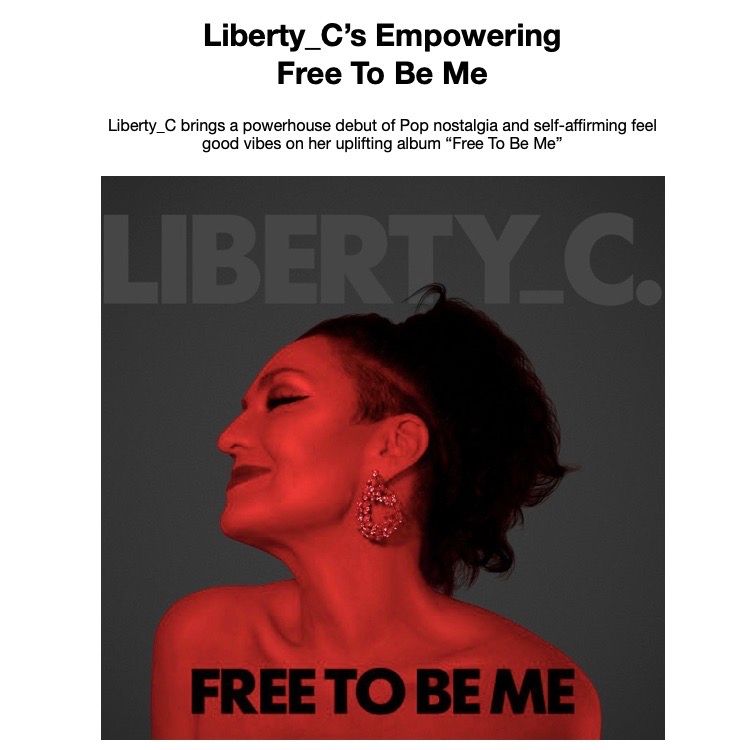 Liberty_C's Empowering – Free To Be Me
by Bob Smith, The Static Dive, April 6, 2021
We first heard from Liberty_C in January upon the release of her uplifting single "Time to Grow". She is the alter-ego of Austrian singer/songwriter, Katja Cruz. Cruz is an artistic and theatrical soul with an aesthetic that is one part Broadway and the other, Greenwich Village. In reality, Katja's home is an ocean away from the streets of Manhattan. In her own historically artistic hometown of Graz, Austria, Katja created Liberty_C, a beacon of positivity and self-esteem. 
"Free to be Me" is the debut album from Liberty_C, released worldwide to all major streaming services on March 26, 2021. The 11 song collection is 36 minutes of inspiring, life affirming and soulful Pop and R&B music. Throughout the album, the singer embraces her own innate theatrical nature. And that is the whole point, to embrace our inner selves. As Katja sings on the uplifting title track, "I've come a long long way, and now I'm here to say I am free to be me."
Musically the album has a lot of fun sliding between different classic eras of Pop music. From the theatrical opener to the feel good 70's Pop and Disco grooves of songs like "I'm Enough" and "Sweet Ecstasy," the record takes inspiration from decades of popular music. "Let's Celebrate Love" blends a little Oldies Rock with 80's Pop, while "Luck" builds to an anthemic peak from a simple Hip-hop beat. "Love You" starts as a simple and touching piano ballad but then builds to a lush orchestral and choral arrangement. It is a beautiful production, with each stylistic curve intentionally placed and expertly executed.
Lyrically, Liberty_C takes us on a feel good ride through all the right emotions. This record is all about living a life of healthy and loving relationships, with those around us and with ourselves. She lets us know that we are "Superheroes," we are complete. It's like therapy but with way better music. We ride smiling together through funk grooves, show tunes and smoky ballads, and we know there are better days ahead.